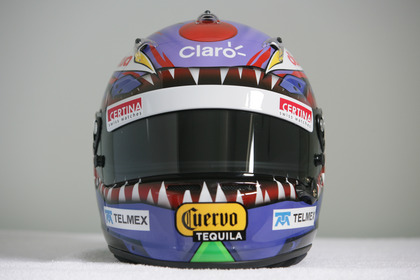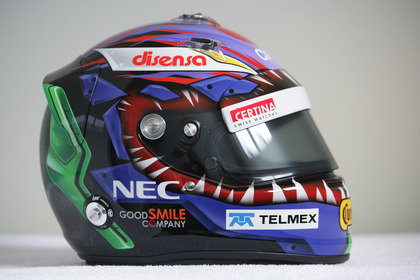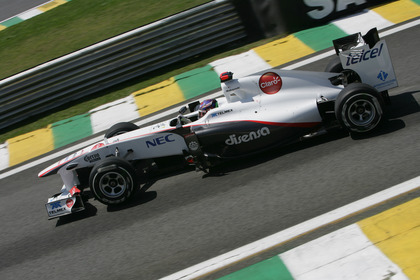 LINKIN PARK TEAM WITH FORMULA 1 DRIVER KAMUI KOBAYASHI TO RAISE MONEY FOR MUSIC FOR RELIEF - JAPAN EARTHQUAKE AND TSUNAMI ASSISTANCE
Through their official website LINKIN PARK have announced that they will be designing a helmet for Formula 1 driver Kamui Kobayashi (Sauber F1 Team) for charity. The one–of-a-kind helmet with original artwork designed by Linkin Park's Joe Hahn will be auctioned off after Kobayashi wears it for his final race of the season at the Brazilian Grand Prix. All proceeds from the auction will benefit Music For Relief's Japan Earthquake and Tsunami Relief.
I've long been a fan of Linkin Park," said Kobayashi. "I love their music and I'm impressed by the band's social commitment. I was thrilled to meet the musicians personally in the paddock when they were giving a concert at the Singapore Grand Prix. We've been in touch since then and I'm really pleased that Joe Hahn has designed a helmet for me." Joe Hahn adds, "This was a fun opportunity to create something for Kamui while continuing our efforts to raise funds for Japan." Together the band, Sauber F1 Team and Kobayashi sponsor Good Smile Company, with the support of Arai Helmets, joined forces to produce the original helmet Kobayashi will wear for the last race of the 2011 FIA Formula 1 World Championship season at the Brazilian Grand Prix on November 27th in Sao Paulo.
The helmet will be auctioned off following the race. The auction will begin at 9:00am EST/6:00pm CET on Thursday November 24th and ends at 2:00pm EST/11:00pm CET on Monday December 19th.
Linkin Park met Kamui Kobayashi on their recent tour of Asia while performing at the Singapore Grand Prix. The campaign was coordinated by Tara Ramos, whose involvement was essential in making this project possible. Tara invited the band into the Singapore paddock where the idea was developed, and offered the band a glance at the heart of Formula 1, with visiting team garages and meeting Kamui Kobayashi.
Music For Relief, founded by Linkin Park in 2005, has raised over $700,000 to help support recovery efforts in Japan following the March 11th earthquake and tsunami. On November 8, 2011, Linkin Park received a Global Leadership Award from The United Nations Foundation for their humanitarian work through Music for Relief including raising funds and awareness following the 2010 Haitian earthquake. The band announced they will champion the Year of Sustainable Energy For all in 2012 through Music for Relief's Power the World campaign.