DOB: October 31st, 1976
Nationality: German & Austrian
Born in: Berlin, Germany
Living in: Switzerland
Marital status: single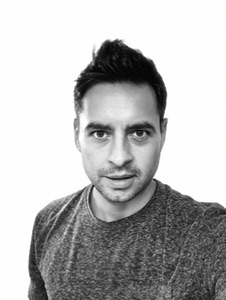 Personal Profile
Before founding GR1D Entertainment in 2013, Tara has been working many years in Formula One racing, managing accounts, creating unique events and hosting celebrities from the music and film industry.
Tara has been working closely together with all F1 teams, the rights holders as well as the equivalent structures, e.g. from tennis (ATP), soccer (FIFA) and other sporting series. The global media corporations are part of his daily business within the sports industry.
Previous to his engagement in F1 he has worked for one of the leading financial information and news networks in both marketing and sales. Tara co-founded and worked at one of Austria's leading new economy consulting agencies which was taken IPO at Germany's Neuer Markt in Frankfurt in 1998 based upon US GAAP standards.
Tara has high knowledge of the sports industry and the online economy with a strong comprehension of international brands, corporations and related global marketing tools. At a young age Tara has been staff-responsible already.
Experience
★ 2023 Author of the book: The GR1D GUIDE - Curated Destination Guide to F1
‣ Research, composition and setting
‣ Design, copywriting and publishing
★ 2021 Author of the book: F1 behind closed doors
‣ Research, composition and setting
‣ Design, copywriting and publishing
★ 2014 - Present FanSpaces GmbH, Munich
Partner & Advisor
‣ Business development and strategic partnerships
‣ Recruitment of significant shareholders
★ 2013 - Present GR1D Entertainment S.r.l., Pescara
Founder
‣ Organisation of the GR1D CLUB™ Grand Prix After Party Series
‣ Event planning, consulting and management
★ 2004 - Present tararamos.com Marketing, PR & Eventmanagement, Berlin
Managing Director
‣ Managing accounts in Formula One racing
‣ Personalised PR for HNWI within F1, consulting and management
‣ Liaison between costumers and the global accredited media & broadcasters
‣ Focus on celebrity arrangements and event organisation
★ 2001 - 2004 Grand Prix T.E.A.M. GmbH, Munich
Managing Director & Partner
‣ Managing accounts in Formula One racing
‣ Acquisition of new sponsors for various Formula One teams
‣ Event planning, consulting and management
‣ Celebrity organisation for Formula One teams
‣ Focus on the celebrity arrangements and event organisation
★ 1999 - 2001 BLUE C New Economy Consulting & Incubation AG, Vienna
Manager, International Business Development & Partner
‣ Co-founder of the corporation
‣ Driving force for the IPO at the Neuer Markt at Frankfurts Stock exchange
‣ Development of business and marketing cooperations, particularly those in the telecommunications, banking and news media sectors
‣ Acquisition of key accounts in the banking and telecommunication sectors; set up contracts, plan internal budgets and define project goals and scope
‣ Interface between clients, cooperation partners and BLUE C AG; establish relationships for clients with e.g. content provider (including Deutsche Presse- Agentur, Dun&Bradstreet, Oracle)
‣ Evaluate further business synergies with cooperation partners and clients, to ensure that the parties obtain maximum benefits
‣ Supervise staff of 6 sales representatives
★ 1998 - 1999 Reuters GmbH, Vienna
Sales Executive
‣ Sales of Reuters Business Information Products (BIP)
‣ Sales of Reuters Video Broadcast Information Products (VBI)
‣ Close cooperation with the marketing department to improve and develop products
‣ Continuation of local internet projects
★ 1998 Reuters GmbH, Vienna
Marketing Executive
‣ Marketing responsibility of Reuters Historic Products, Wireless Products and Video Broadcast Information Products
‣ Co-ordination of client events
‣ Design of invitations, brochures and flyers
‣ Training of Reuters staff: Internet/Intranet
‣ Establishment of local internet projects
‣ Overseeing use of treatment of corporate identity, e.g. logo
★ 1997 Formula One Administration ltd., London
Personal Assistant to the Organisation
‣ Co-ordination of FOA events
‣ Contact and cooperation with several F1-teams (including Ferrari, British American Racing and McLaren Mercedes)
‣ Co-ordination of media and press events
‣ Assistance with the organisation of the F1-Paddock
Education
1999 Debis Systemhaus, Vienna
‣ Presentation skill training
1998 Kepner-Tregoe, Vienna
‣ Problem Solving and Decision Making
1989 - 1996 Königin-Luise-Stiftung (private high school), Berlin
1984 - 1989 Private Kant Schule (private primary school), Berlin
Skills
✴ Perfect in written and spoken German
✴ Perfect in written and spoken English
✴ Perfect in spoken, and fluent in written Spanish
✴ Elementary proficiency in Norwegian
✴ Very strong in Mac and PC: Adobe CS, Microsoft Office